OBTU "Grand Reopening" Chapter Meeting
September 15 @ 6:00 pm

-

9:00 pm
We plan to hold a "Grand Reopening" Chapter meeting at our traditional pre-Covid meeting location at the Central Park West Building within the Oak Brook Park District Campus.
An outdoor brat cookout with all the trimmings with food planned to be ready by around 6:00pm.   The outdoor chapter meeting will begin at the usual 7:00pm time.
Speaker:   Matt Jennings, Gary Borger Chapter
Topic:    Overlooked Big Fish Near Home: Fishing the Southern Wisconsin Tributaries 
Matt's talk will take us on a virtual trip about an hour North of Chicago to chase some enormous Potadromous Salmonids. There are amazing opportunities to chase stunning Steelhead, beastly Brown Trout, and robust reel spinning Salmon fresh out of Lake Michigan within an easy day trip. These fisheries compete favorably with many more famous and distant destinations. The beautiful fish in these nearby waters can be had with much less effort, time, planning, or money. Fishing nearby also means its easier to reap the rewards by going when the conditions are perfect for catching trophy fish. We'll be drilling down on the newest techniques and changing conditions. Topics about timing the fish runs, locations for fishing, rigging for success, and even crowd avoidance, will be covered. This should be a timely talk as we all prepare for an outstanding Fall Season!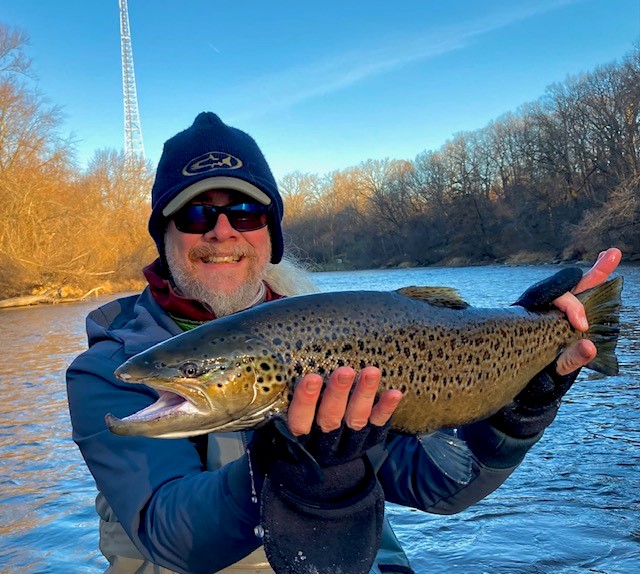 More About Matt Jennings:
Matt Jennings is an angler of over 35 years with a fly. Fishing the tributaries to the Great Lakes has been his passion for all of the 17 years since he was transplanted to the North-shore of Illinois from his home state of Texas. As an innovative fly tyer he is responsible for several regional fly patterns. Matt has stepped up and served many roles in local fly fishing organizations including President of the Gary Borger Chapter of TU. As a conservationist he has been a persistent advocate for a healthier management of the Great Lakes and surrounding waters.  As a fly fishing writer and photographer his work has been included in several sources including Dun Magazine, and A Tight Loop Magazine.