The Wisconsin River flows unimpeded by any man-made structures for 92.3 miles from the dam at Prairie du Sac downstream to its mouth at the Mississippi River, making it the longest free-flowing section of river not only in Wisconsin, but the Midwest as well.  Approximately 95,000 acres of land on both sides of the river have been designated as the Lower Wisconsin State Riverway (LWR).
The LWR is a big river, rarely getting over 10 feet deep and is often less than four feet in depth, which makes navigation difficult if not impossible with large power boats.
One of the reasons the LWR is a bucket list fishing destination is that it is one of the most ecologically diverse river systems in the country providing a home for 98 species of fish.
As it is with most rivers, you're never quite sure what you're going to catch since the Wisconsin River holds dozens of fish species. On any given day you may catch smallmouth, northern pike, muskies, walleye, sauger, catfish, largemouth, plus assorted rough fish all from the same area.
FISHING REPORTS
Orvis
GUIDES
Black Earth Angling
Jacquish Hollow Angler (Dave Barron)
LODGING AND DINING
Cedarberry Inn (Sauk City)
Cedar Valley Preserve (Spring Green)
Jacquish Hollow Anglers' Inn (Richland Center)
Spring Green Motel (Spring Green)
Usonian Inn (Spring Green)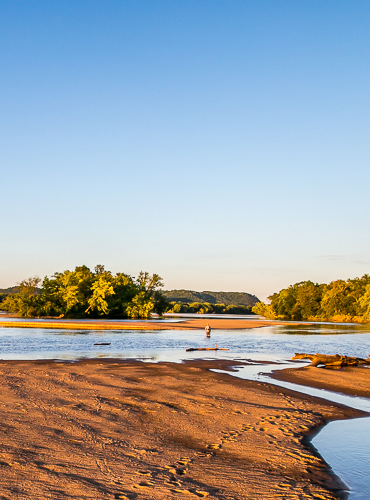 Wisconsin River at MUSCODA, WI
Streamflow: 1140 ft³/s
Gage height: 4.12 ft
USGS
Sauk City/Prairie du Sac