May 15-17, 2021, and again in October (dates to be determined)
Oak Brook TU Entomology Survey and Michigan Fly Fishing Weekend
For the past several years, OBTU has been performing entomology surveys of the Coldwater River Watershed near the town of Alto, close to Grand Rapids, Mi.   This is a popular outing held each May and October and typically attracts strong participation.  Following coffee & donuts, the outing features a half-day work session on Saturday morning where OBTU members split into small teams to sample the macrovertebrates at various Coldwater River locations.   With samples collected, everyone meets back at the Tyler Creek Country Club to classify and record the samples.    The data compliled is used over time to study trends in the diversity of macro invertebrates recorded providing an indicator of stream health.  This is an enjoyable, interesting & educational activity.    To the uninitiated, its a great opportunity to learn about coldwater aquatic insects and other invetebrates that contribute to the trout food chain.
Participants often fish before and/or after the entomology survey.  Members often stay over 1 or more nights in Grand Rapids area motels or camp in the Tyler Creek Country Club camping area.  Individuals often organize their own travel & fishing plans.  Depending on personal preferences and varying conditions, people often fish on the Coldwater River, the Muskegon River, or the Rogue River.    For those interested,  efforts are made to pair up individuals who would like experienced companion(s), ride sharing, etc.  Please contact Marvin Strauch, the event organizer, for more info and to register your interest in attending.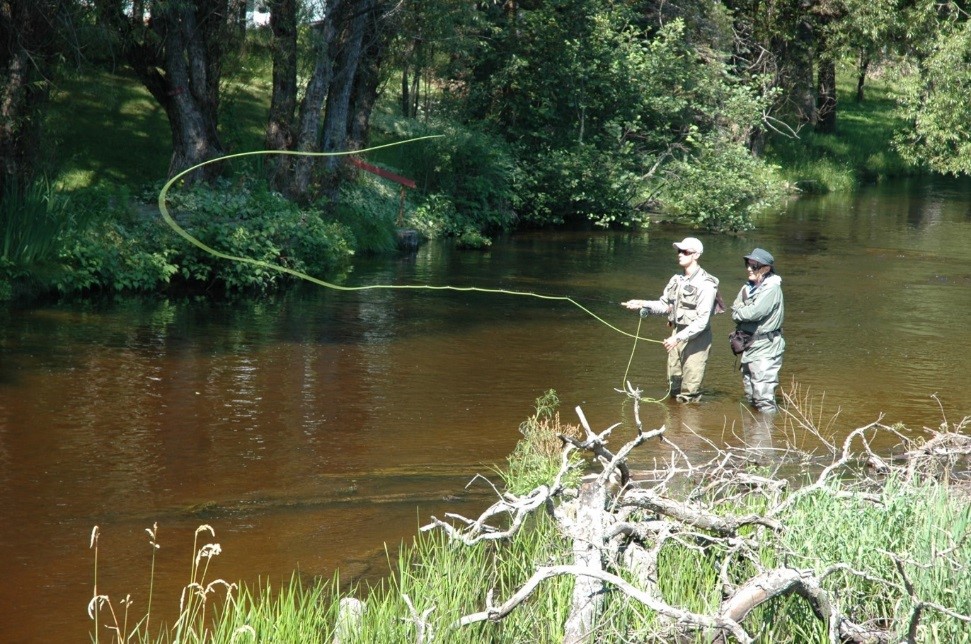 September 10-12, 2021                                                                                                                                           

Oak Brook TU Fishing Weekend–Wisconsin Driftless Area
This is the 3rd annual OBTU chapter fall fishing outing to the Wisconsin Driftless Area.  Lodging reservations for up to 12 people have been made at Nature Nooks Retreat in the heart of the Driftless Area near Viroqua.   Nature Nooks retreat offers fully equiped cabins a short walk from blue ribbon trout fishing on the West Fork of the Kickapoo River.   Overflow lodging options include camping at the West Fork Sportsman's club a short drive away, or motel rooms in Viroqua or Westby.  An abundance of excellent trout streams is nearby.   The trip is friendly to new members, those new to the area or new to fly fishing for wild trout; as well as experienced old timers who may want to explore on their own.   If you want a little guidance, we will do our best to show you a good time, put you on some trout, and help you match the hatch.
The trip is organized to keep participant costs at a minimum.    Friday & Saturday lodging at Nature Nooks, on-site group dinners  Friday and Saturday, and breakfasts on Saturday & Sunday are provided at a very modest cost.   All other individual costs are "on your own" including car travel, road food, stream-side lunches, fishing licenses, fishing equipment & supplies, and other personal expenses.
Reservations will be made on a first come, first served basis.                                                                                                                                          For more information or to reserve your spot, contact Willie Beshire.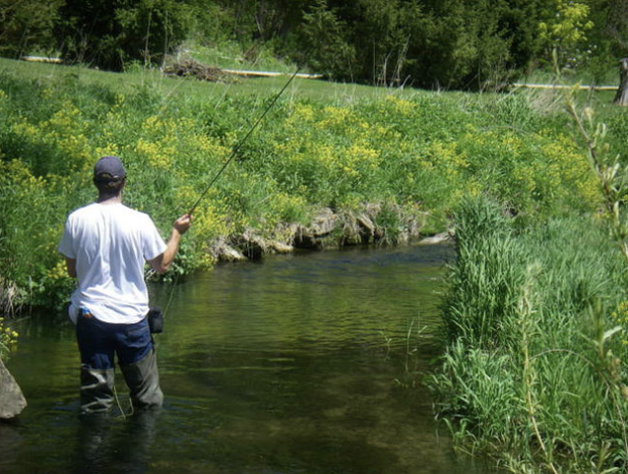 October 15-17




Oak Brook TU Fishing Weekend–Iowa Driftless Area
This year's Iowa fishing outing will be based in the Decorah which is part of the "Driftless Area".
Similar to last year, we are planning a loosely coordinated trip:
-Participants will arrange their own travel plans, schedules, and lodging.   The Decorah area offers a variety of motels, lodges, and camping options.  For those interested, we will make a best effort to coordinate ride sharing, convenient lodging, etc.   As we get nearer to the trip, we will suggest some lodging choices for those who want to lodge close to their colleagues.
-We will make plans to meet for group breakfasts and dinners for those interested. Of course, you are free to make your own meal plans.  Meal cost will be "on your own".    We recommend that participants plan for their own sack lunches on the trout streams which are usually remotely located.
-We will make efforts to faciliate fishing plans for the group.    For those interested, we will pair you up with others.  If you are new to fly fishing for wild trout, or new to the area, we will point you in the right direction.   if desired, we will pair you up with a fellow TU member who can offer some coaching/guiding.   Professional guides can be arranged at your own expense.   There is an abundance of good water.  We will make a best effort to put everyone on some good fishing.  Of course, if you prefer solidtude, you are free to go off and be one with nature on your own.   We'll do our best to help everyone have an enjoyable trip.
At this time, we encourage you to "save the dates".    We will provide much more detailed info as the trip approaches.
Contact Willie Beshire for more information and to register your interest in attending.