President's Letter
Greetings Oak Brook TU members and friends:
I would like to report that we are working harder than ever to provide OBTU members opportunities to become more actively involved.  You may ask, "Why are we doing this?"   It is no secret.   By creating attractive opportunities for our members, we hope to increase membership engagement and attract new members through referrals so that we can continue to strengthen and grow our chapter.   In this way, we can make a bigger impact on the TU mission of "conserving, protecting and restoring" North America's coldwater habitats—especially those close to home.
To summarize what we are doing to increase participation in our conservation, youth education and recreational activities, I have listed recent events, as well as numerous upcoming events where you are encouraged to join in the fun:
Youth Fly Fishing Classes held monthly at Sagawau Forest Preserve in Lemont.  This program—in its 15th year and open to boys and girls 11 years and older—is setting a registration record this year.  Fly fishing class dates are May 15, June 15, July 13, August 10, August 24 and September 7.   About 10 adult volunteers are needed to help mentor each session.  Contact Marvin Strauch if you are interested in learning more about this program and volunteer opportunities.
May 15 Spring Fling Open House and cookout at Naperville White Eagle subdivision clubhouse which was well- attended by 58 members and guests.  We had numerous sign-ups for chapter-hosted fishing weekends this Spring and Fall in the Wisconsin Driftless Area as well as a special Orvis Yorktown hosted half-day smallmouth trip on the DuPage River in the Warrenville/Naperville area.  See more information below.
Summer Flyrod Casting Sessions feature Sunday morning and Tuesday night instruction opportunities from June 4 through August 27.  The Tuesday night sessions begin at 6 p.m. and run until dark at Oak Brook Recreation Center behind the Central Park West Building where we have our monthly meetings.  Sunday morning sessions feature overhand or two-hand casting on the water at Clark Island Park on the Fox River in Batavia.  See our website for more information including directions and contact information.
Michigan Coldwater River Work Days with Fishing Outings. The spring session was held the weekend of May 18 with a strong turnout.  This very popular outing is held twice a year and includes an entomology survey of the Coldwater River Watershed.  Look for information on this year's October work in upcoming emails and on our website Calendar.
"Trout on Tap" evening social event June 18 to 8 p.m. at the Rock Bottom Brewery, Yorktown Center, Lombard.  This was our first summer social get-together and we will probably schedule another one this summer for members and guests to share their fishing tall tales and fellowship.
Wisconsin Driftless Area Work Day to build lunker structures took place at Fisherman's Park in Sparta, Wisconsin on June 22 with the option for weekend fishing in the area.
"Adopt-a-Stream Work Day" to clean up the West Branch of the DuPage River in Naperville was rescheduled for Saturday, June 29, followed by lunch in Naperville.
Upcoming OBTU Chapter Driftless Area Fly Fishing Outings:
June 28-30 introduction to wade fishing the Wisconsin Driftless Area (this session was fully booked)
September 27-29 wade fishing in the Wisconsin Driftless Area (7 expressions of interest to date; planning is underway)
October 18-20 wade fishing the Iowa Driftless Area (10 expressions of interest to date; planning underway)
We will attempt to arrange carpooling opportunities as well as provide lodging options.
Our Monthly Chapter meetings reconvene Wednesday, September 18.  We are currently finalizing our speaker schedule on both fly fishing destinations and conservation topics of interest.
Please stay tuned to obtu.org, chapter newsletters and email announcements for upcoming event details.   Don't hesitate to contact me or other OBTU board members for more information.  See you on the water!
Willie Beshire
Oak Brook TU President
OBTU Chapter Graduates 11th Year of "Trout in the Classroom" Students
The Oak Brook TU Chapter has successfully completed its 11th year of "Trout in the Classroom" (TIC) with over 700 student participants.  TIC is a program that allows participating schools to raise trout from eggs to juvenile trout in a classroom from an aquarium tank and release them in a northern Illinois trout stream or Lake Michigan.  This year OBTU supported 12 school programs.  Students from these schools released their trout during the week of May 6.
The program helps students learn the complexities and fragility of coldwater stream ecosystems, and hopefully to develop a conservation ethic through the TIC program.  TIC is a nationwide but highly localized program where teachers and their students raise trout from eggs to fingerlings over the course of one school year.  They learn to care for their fish and trout habitat, and the program culminates with a field trip where the students release their trout in a northern Illinois trout stream, or in Lake Michigan.
These release field trips are the culmination of a year's activity for these students, as they visit the trout stream, test the water quality for comparison to their school tank, and seine and survey for aquatic nymphs and
organisms that are part of the trout's ecosystem.  And of course, they release their trout fingerlings.
This program could not have been successfully completed without the support of OBTU volunteers.  In fact, this year between the April entomology presentations at TIC schools and the release week, 25 OBTU volunteers worked a total of 400 volunteer hours.
For the 2019-2020 school year, we will see the return of Burroughs School in Chicago, as well as two new schools–Percy Julian Middle School in Oak Park (recipients of Oak Brook TU's annual TIC grant) and Gower Middle School in Burr Ridge (recipients of the Illinois Council TU TIC grant).
"This is a healthy and growing program," said Marvin Strauch, OBTU Youth
Education Chair.  "Of course, the day to day work of TIC is conducted by the individual teachers and students, who without exception, take serious ownership of their troutlings.
These young people are very concerned for the health of their fish, and excited to release them in their natural home."
The program could not continue without the participation of OBTU volunteers and financial support of the chapter's fundraising efforts. These volunteers help the schools set up the 55-gallon aquariums, and prepare the water for the arrival of the trout eggs. They deliver the eggs in November and visit the schools periodically during the school year to ensure that the trout remain healthy. The program kicks into high gear in mid-April when OBTU volunteers, along with retired entomologist Dean Hansen, present a very hands-on entomology program which is called our "Wet Bugs" program. Twenty-three OBTU volunteers brought this program to more than 450 students over six school days.
Three weeks later, the program culminated in the release field trips. Ten school groups released their brown trout in a northern Illinois trout stream. The other schools conducted releases of rainbow trout in Lake Michigan. The stream releases were assisted by 21 OBTU volunteers, who helped students seine for stream insects to learn what their trout will feed on, conduct water quality tests to compare the stream conditions to their aquarium results, and understand what makes a healthy trout stream.  And of course, to release their trout.
Special thanks go to the following OBTU volunteers: Miguel and Mirella Alvarez, Ted Bernhard, Willie Beshire, Steve Carlson, Dave Carlson, Art Cottrell, Lisa Gilmore, Fred Hodge, Ken Krueger, Dan LaFave, Mike Lesiak, Dave Lunardini, Dale MacDonald, Phil McCluskey, Ed Michael, Jim Schmiedeskamp, John Snyder, Bill Thoms, Walter Wahlfeldt, Tom Wilhelm, Phil Young, Stan Zarnowiecki, Frank Zbylski.
Marvin Strauch discusses the "Trout in the Classroom" program with students at Prairieview Middle School in Tinley Park.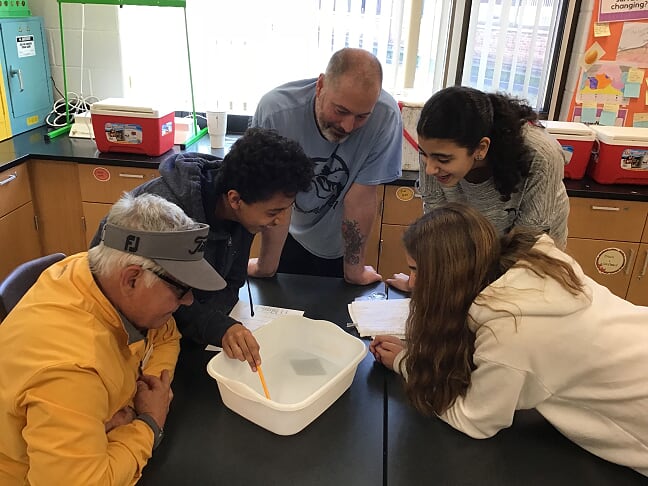 John Snyder (left) helps students identify macroinvertebrates during a "Trout in the Classroom" session.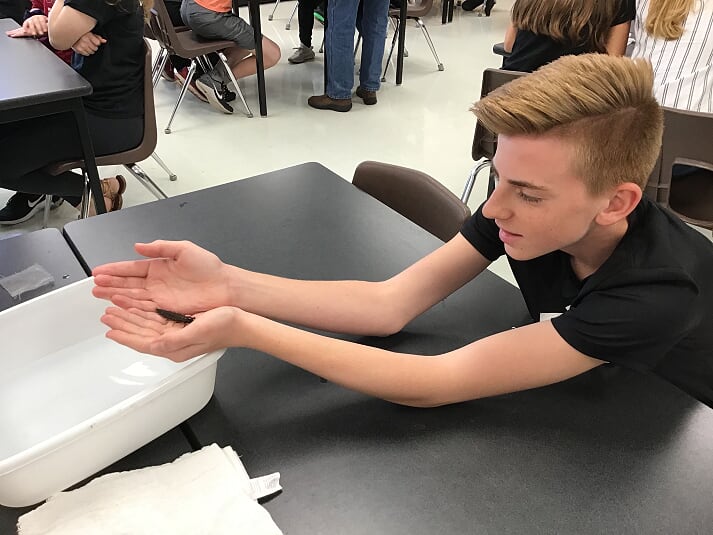 A Prairie View student gets up close and hands on with a hellgrammite.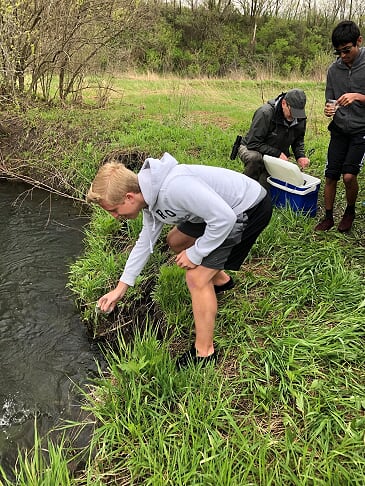 "Trout in the Classroom" students release their brown trout fingerlings in a northern Illinois stream.
An Interview with Jeff Hastings on TU's Driftless Area Restoration Success and Challenges
Jeff Hastings is one of the world's most knowledgeable experts on coldwater steam restoration and upland watershed management. He has been the Project Manager for TUDARE (Trout Unlimited Driftless Area Restoration Effort) for over 10 years.
Jeff spoke at the OBTU's March meeting on the planning and construction of stream restoration projects, the many benefits of habitat improvement and what projects TUDARE is working on now. He also shared an update on the damage to many Wisconsin Driftless Area streams as a result of the heavy rains in August 2018 and subsequent changes to some stream restoration practices.
Read an-depth interview with Jeff as a follow up to his March presentation including the potential for Illinois Driftless Area streams supporting trout.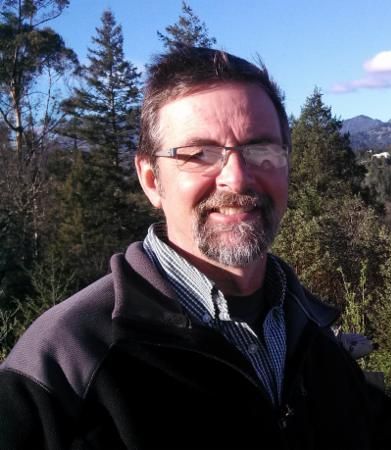 Jeff Hastings, Project Manager for Trout Unlimited Driftless Area Effort
OBTU Fundraising Short of $8,000 Goal
The Oakbrook Chapter of Trout Unlimited (OBTU) requests your support through our Spring Solicitation  earmarked for our 2019-2020 conservation and youth education programs. Your donations are the primary funding for OBTU's ambitious programs to strengthen the local coldwater fisheries we enjoy.
While your membership dues benefit the national organization, your OBTU donations fund local projects and improve fishing close to home. This year we have some special needs.  Historic flooding in the Driftless Area last August destroyed several dams and ruined miles of streams that now need restoration. Michigan's Dowagiac River 2019 dam removal will need watershed improvement.  And, we have more demand than ever for OBTU's Trout in the Classroom program.  See related newsletter articles on our Trout in the Classroom program and the TU Driftless Area Restoration initiative.
A strong Spring Solicitation will enable us to work on all of these projects.  With that in mind, all OBTU board members are donating a minimum of $100 each and will raise at least $3,000 in total.  Please join in with your donation so we can raise over $8,000.  It's good to be a Trout Unlimited member and it's great to be an OBTU supporter.
If you haven't already mailed your donation, you can still do so by sending your check payable to "Oak Brook Trout Unlimited" to:
Oak Brook Chapter Trout Unlimited
P.O. Box 5046
Oak Brook, IL  60522-5046
Alternatively, you may donate via our website's "Donate" page.
OBTU is a 501(c)(3) non-profit. Your donation is tax deductible and may also be MATCHED BY YOUR EMPLOYER.  Our Employer Identification Number (EIN) is 38-1612715 and a copy of our 501(3)(c) Tax Identification Letter is available for download on our website:  www.obtu.org
All donors will receive a documentation letter for your file.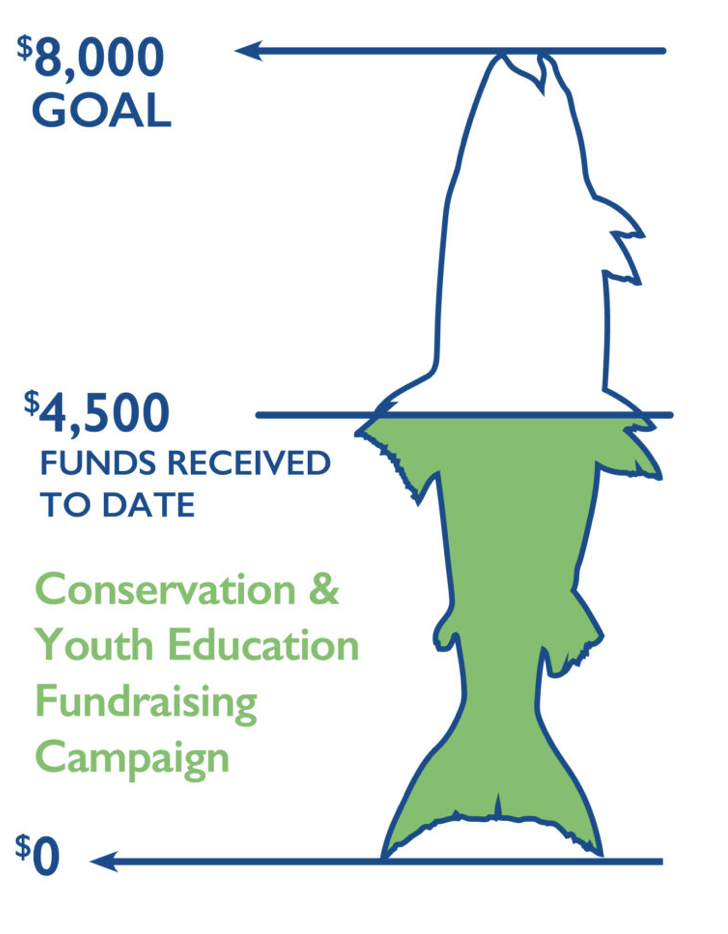 OBTU May 15 Spring Fling Event Engages Members
Our May 15 Spring Fling open house in Naperville drew 43 OBTU members and 15 guests looking to learn more about our chapter's various activities and opportunities for fellowship.  Grilled brats were served by Stan Zarnowiecki and enjoyed during a 70-degree spring evening overlooking White Eagle Lake.  Fly tying demonstrations were provided by Steve Carlson, Fred Hodge, Dave Lunardini, Jim Jones, Dale MacDonald, and Marvin Strauch.  Sales associates from the DuPage Fly Fishing Co. and Orvis Yorktown were on hand to showcase their latest equipment and gear.
A key feature of the meeting were the various weekend fishing trips that will be hosted by the chapter to introduce members to the Wisconsin and Iowa Driftless Area with lodging and carpooling coordinated by the chapter.
Orvis Yorktown also provided a sign-up for a summer half-day smallmouth trip on the DuPage River in the western suburbs.
Informational handouts were provided featuring popular fishing locations and our preferred guides in Illinois, Michigan and Wisconsin.
OBTU members also staffed information tables on upcoming volunteer activities for conservation work days,    youth education and advocacy programs.
"Our Spring Fling event attracted both OBTU members that typically don't attend our monthly meetings as well as anglers interested in learning more about Trout Unlimited and our chapter," said Willie Beshire, OBTU President.  "We had a terrific response to our three, chapter-hosted summer and fall fishing weekends.  These trips are perfect for members looking to connect with other fly fishers, and those who want to learn more about fly fishing the Driftless Area for trout."
Driftless Area Weekend "Trout Fly Fishing" Trips Hosted by OBTU
The June 28-30, Wisconsin, weekend trip sold out with six anglers signed up for a maximum of six spots.  Additional weekend trips are being planned to Wisconsin (September 27-29) and Iowa (October 18-20). Numerous people signed up for one or both of these trips. A formal registration process will commence soon.   Be alert for more information via upcoming membership communications.
If you are interested in the September 27-29 Wisconsin and/or October 18-20 Iowa Driftless Area trips, please contact Willie Beshire via email:  wbeshire@aol.com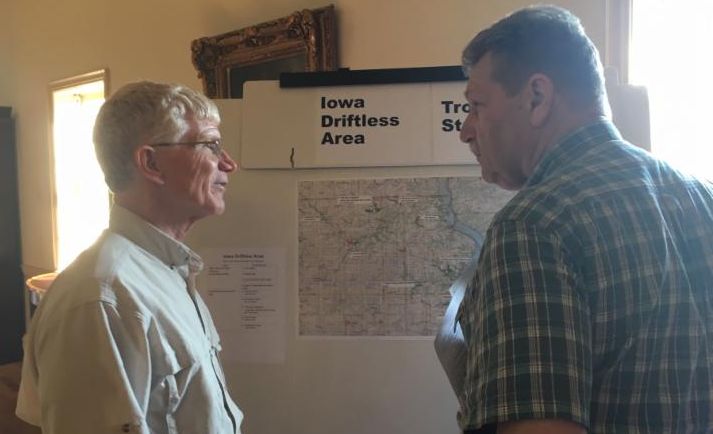 OBTU President Willie Beshires discusses Driftless fishing trips.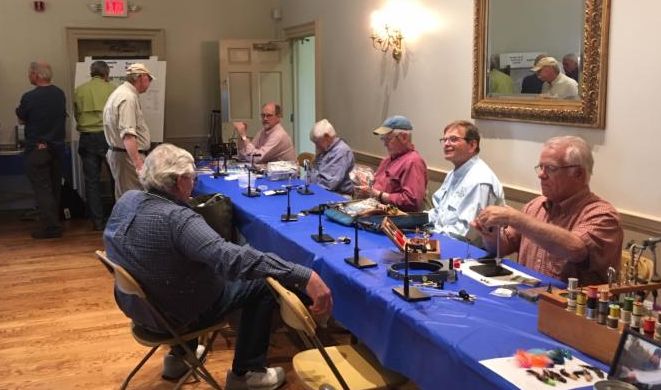 OBTU members demonstrate fly tying techniques at the 2019 Spring Fling event.