The Oak Brook Chapter of Trout Unlimited cannot meet all its grass root conservation and youth education program goals without the support of business partners who donate products and services to aid our fundraising initiatives.  Merchandise donations support our monthly meeting raffles, annual Rod Raffle and December Holiday Party. Students in the Chapter's Youth Fly Fishing Classes learn with donated rods, reels, and fly tying equipment.
We appreciate the backing of our Valued Sponsors, Business Partners and preferred guides and encourage our members to support their businesses!
Visit our Donate page to learn more about how you can help us achieve our conservation mission in the Midwest.
For more information on how you can become a Valued Sponsor or Business Partner, please contact Jim Schmiedeskamp.
Valued Sponsors
Bass Pro Shops (Bolingbrook)
Cabela's (Hammond, Indiana)
Dry Fly Distilling (Available at most Binny's locations)
DuPage Fly Fishing Co. (Naperville)
DRiFT (DuPage Rivers Fly Tyers)
Fishpond
Orvis (Yorktown Shopping Center)
Rush Creek Distilling (Harvard, Illinois–Available at most Binny's locations)
Steelhead Vineyards
Whitetail Fly Tieing Supplies
Business Partners
Athena & Artemis Women's Fly Shop & E-Store 
Big Sky Brewing
Binny's
Brookfield Zoo
Coren's Rod & Reel
Costco
David Ruimveld Studios
Driftless Cafe (Viroqua, Wisconsin)
DUN Fly Fishing Magazine
Fenway House Hotel (Fennimore, Wisconsin)
In the Loop Outfitters (Javier Guevara)
Kohler River Wildlife (Kohler, Wisconsin)
Lange Estate Winery and Vineyards (Willamette Valley, Oregon)
Morton Arboretum
Rockford Brewing Company (Grand Rapids, Michigan)
RogueAngler.com
Sandhill Coffee 
Shedd Aquarium
Thom Glace Water Colors
Trails & Tides (Naperville)
Two Brothers Artisan Brewing  (Available at most Binny's locations)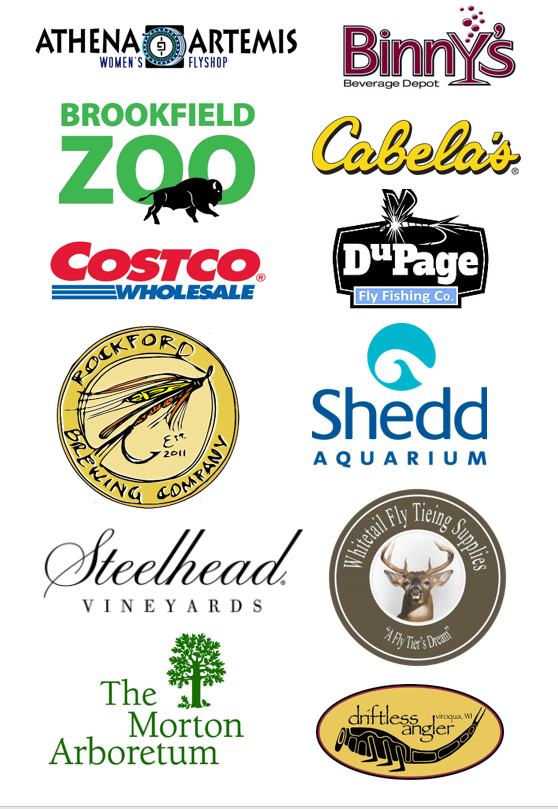 Preferred Guides
Illinois
Kankakee River
Big River Fly Fishing (Will Winan)
Northern Illinois Rivers and Tributaries
Midwest Waters Angling Co.
Michigan
Betsie River
Pat Moore (Moore Outfitters)
Email:  mooreoutfitters@gmail.com
Dowagiac River
Jay Anglin Outdoors
Ripple Guide Service
Manistee River, Little Manistee River, Pine River
Gouker Fly Fishing 
Muskegon River
Feenstra Guide Service
Riverquest Charters (Jay Allen)
Pere Marquette River
Outfitters North (Jeff Hubbard)
Pere Marquette River Lodge
St. Joseph River
Jay Anglin Outdoors
Ripple Guide Service
Oregon
MacKenzie River, Umpqua River, Upper Willamette River
Kevin Hawkins
Email:  fishingkevin@gmail.com 
Wisconsin
Driftless Area
Black Earth Angling
Driftless Angler
Jacquish Hollow Angler (Dave Barron)
Rich Ostfhoff
Lower Wisconsin River
Black Earth Angling
Jacquish Hollow Angler (Dave Barron)
Northern Wisconsin Rivers and Streams
Great Northern Fly Fishing
Southeast Wisconsin/Sheboygan River
Matt Brush
Dead Drift Anglers
Email:  Mattmbrush@gmail.com
North America
Alaska
Ouzel International Expeditions
British Columbia (Elk River)
Driftless Angler
Central America
Costa Rica
Ecuador Fly Fishing Tours
Guatemala
Ecuador Fly Fishing Tours
Mexico
Ecuador Fly Fishing Tours
South America
Argentina (Patagonia)
Athena & Artemis Women's Fly Shop
Ecuador Fly Fishing Tours
Bolivia
Ecuador Fly Fishing Tours
Chile
Ecuador Fly Fishing Tours
Columbia
Ecuador Fly Fishing Tours
Ecuador
Ecuador Fly Fishing Tours
Galapagos Islands
Ecuador Fly Fishing Tours
Russia
Kamchatka
Ouzel International Expeditions