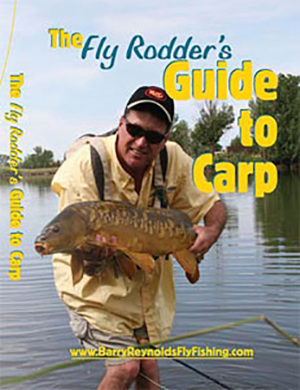 by Phil Young
The Fly Rodder's Guide to Carp by Barry Reynolds (BT² Productions / 2006) 98m / DVD
Guilty pleasures. For the last few years, I have been indulging in some unseemly fly fishing activity in the creek at the rear of my lot. Fly fishing for common carp. All of the power of saltwater redfish no more than 200 feet from my back door.
In The Fly Rodder's Guide to Carp, Barry Reynolds asks the question, "Why not carp?" He then explains that these highly-intelligent selective feeders are great fighters that can live to 50 years and weigh up to 70 pounds. Also discussed are items in the carp diet (they are omnivores), flies to match that diet and ways to find feeding carp (tailers and cloopers) in still and moving water. This is a great video if you are interested in something different.
Whoa! I have to go now. There is a mulberry hatch going on over my creek.
This DVD, as well as others in the chapter's library, are available for check out at chapter meetings. If you are holding any of the chapter's other videos, please return them when you are finished so that others may view them.