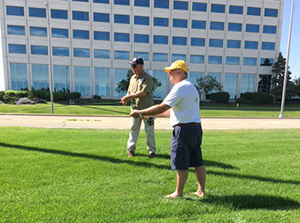 Orvis Yorktown kicked off their 2016 fly fishing basics classes for beginners on April 16 and concludes them on August 7. Orvis segments their classes into two sessions—Fly Fishing 101 and Fly Fishing 201. FF101 is for beginners of all ages where attendees learn the fly fishing basics from outfit rigging through fly casting. FF101 graduates can advance to the FF201 class which features a short outing on local water for a chance for each participant to catch their first fish!
"With the Orvis Fly Fishing 101/201 season completed, I would like to thank all of the OBTU volunteers who took time out of their weekend schedules to help run the program which comprised 22 sessions," said Glenn Martenson, Orvis Yorktown store manager. "We truly would not be able to have the success we experience with this program without the help each from Oak Brook Trout Unlimited and its members. And special thanks to Tom Hoagland for coordinating the volunteer efforts this year and assuring we had enough volunteer staff for each class."
208 Participants and New TU Members
For 2016, 166 participants took the 101 and 201 classes with two classes to go, which should exceed the Yorktown store's 2015 total of 170 with two classes remaining.
The FF101 classes are usually comprised of 12 to 15 participants which are led by 5-6 OBTU and Orvis volunteer instructors. The FF201 classes are larger (15-20 members) because there are fewer classes.
"I think it's a great program for TU because it not only introduces new people to the sport of fly fishing, but also adds to the ranks of our members," said Tom Hoagland, OBTU volunteer organizer. "The class make-up is typically 80% male adults with the balance being women and kids. We had had OBTU volunteers fill 57 instructor slots with at least 2 hours per session for a total of 114 man hours devoted to this program."
In addition to the free instruction, all FF01 participants also join Trout Unlimited through a special free first-year membership. OBTU instructro volunteers earned discounts on Orvis equipment and merchandise up to 40% depending upon the number of classes they led.
OBTU Volunteers Recognized
OBTU volunteers included Ron Abrant, Darwin Adams, Wayne Bernahl, Steve Carlson, Dave Moore, Ed Evans, Frank Harford, Fred Hodge, Tom Hoagland (OBTU coordinator), Ron Kurasz, Ralph Loza, Jeff Kroger, Greg Prosen, Frank Sprouse, Craig Thornton, Joe Weisenberger, Tom Wilhelm, Phil Young, Stan Zarnowiecki and Frank Zbylski.