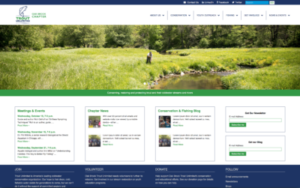 With over 50 percent of all emails and website visits now viewed by a mobile device—either a smartphone or tablet—Oak Brook TU is introducing its first truly "mobile responsive" website and electronic newsletter. "Mobile responsive" means the content will reformat for easy viewing and reading regardless of the screen size —from a desktop PC to today's smartphones.
The new website is very robust, featuring broader and deeper content, from the "about us" section to a detailed overview of our conservation history and current projects as well as youth education programs.
Fishing Section
The in-depth fishing section features location content from Michigan, Wisconsin and Missouri, with sections on Minnesota and Iowa to come in a couple of months. Local guides and fishing reports are featured along with online fishing license and area map links and in the case of Michigan rivers: current stream flow reporting.
A "Marketplace" page allows OBTU members to list fishing gear and items for sale with a 5% sales fee donated to the chapter to support its fundraising efforts.
Show off your 2016 spring and summer "catches" by sending us your photo(s) with caption information—for example, where you were fishing (don't need to disclose secret location), guide (if you used one and recommend him), and anything else of interest (fly pattern). Email your photo and information with "Photo Gallery" in the subject line to: jimschmieds@gmail.com
Membership Engagement Encouraged
The new website's home page provides information on our fall schedule of events and the volunteer page seeks greater member engagement with leadership contact information easily accessible throughout the website.
Links to Facebook plus our new LinkedIn and Twitter pages allow members and other OBTU followers to receive our latest news and other timely information via the news channel they prefer in addition to our usual e-blasts.
Photographer Credits
Special thanks to the following photographers who provided their river and stream photography: Joe Barker, Brad Eaton, David Stonner, and Kyle Zempel.
If you have experience updating WordPress websites and would like to join the chapter's Communications Committee, please contact Jim Schmiedeskamp via phone (312.375.6502) or email: jimschmieds@gmail.com.
.