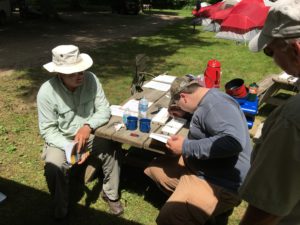 The Oak Brook TU chapter held the first of two 2016 macroinvertebrate study days on the Coldwater River near Alto, Michigan on Saturday, June 11.
The outing featured 17 volunteers, including five students from the Riverside Brookfield High School (RBHS) TU Teen Club. This year's study marked the third year of spring and fall studies on the Coldwater River watershed.
By definition, macroinvertebrates are organisms without backbones, which are visible to the eye without the aid of a microscope.  Aquatic macroinvertebrates live on, under, and around rocks and sediment on the bottoms of lakes, rivers, and streams.
Marv Strauch, a Coldwater River Watershed Council (CRWC) member, was the event organizer. After breakfast, members and students were divided into four teams. Each group was assigned sampling locations from the five sites that have been sampled twice a year for the previous two years. Team assignments were made, equipment (nets and buckets) distributed, and volunteers headed to the designated sample sites.
Once there, macroinvertebrate samples were collected from about 100 yards of stream bottom in about 30 minutes. Samples were collected in 10-gallon buckets for classification and counting later back at the camp site.
At the campsite, members began the process of classifying and counting the macro-invertebrates using shallow trays and ice cube holders. Reference books were used to help identify the collected aquatic insects and macro-invertebrates like crayfish and sculpins.
Collected specimens included stoneflies, mayflies, caddis, scuds, and blood worms. After classification, the bug types were counted and recorded. Results were reported to the CRWC for evaluation and tracking of stream health.
This is the third year of a three year study. Some macro-invertebrate types, such as stoneflies, require non-polluted conditions to thrive. Others, such as blood worms, are less sensitive to water cleanliness and survive in polluted water. By classifying and trending the populations of the different macro-invertebrate types and their sensitivities to pollution, the CRWC gets an idea of how stream health is evolving.
And it's fun. After the counting was done, Stan Zarnowieki grilled brats for lunch. Later in the afternoon, participants went fishing or headed home.
Our next Coldwater River study is scheduled for Saturday, October 8, 2016 at the same location. The October survey will end the three-year program. However, the Conservation Committed is expecting to initiate a new three-year study with potentially new sampling locations in 2017.