The Oak Brook Chapter of Trout Unlimited cannot meet all its grass root conservation and youth education program goals without the support of business partners who donate products and services to aid our fundraising initiatives.  Merchandise donations support our monthly meeting raffles, annual Rod Raffle and December Holiday Party. Students in the Chapter's Youth Fly Fishing Classes learn with donated rods, reels, and fly tying equipment.
We appreciate the backing of our Valued Sponsors, Business Partners and preferred guides and encourage our members to support their businesses!
Visit our Donate page to learn more about how you can help us achieve our conservation mission in the Midwest.
For more information on how you can become a Valued Sponsor or Business Partner, please contact Jim Schmiedeskamp.
Valued Sponsors
Dry Fly Distilling (Available at most Binny's locations)
DuPage Fly Fishing Co. (Naperville)
Orvis (Yorktown Shopping Center)
Business Partners
Athena & Artemis Women's Fly Shop & E-Store 
Driftless Cafe (Viroqua, WI)
Erehwon Mountain Outfitters (Naperville)
Rockford Brewing Company (Grand Rapids, MI)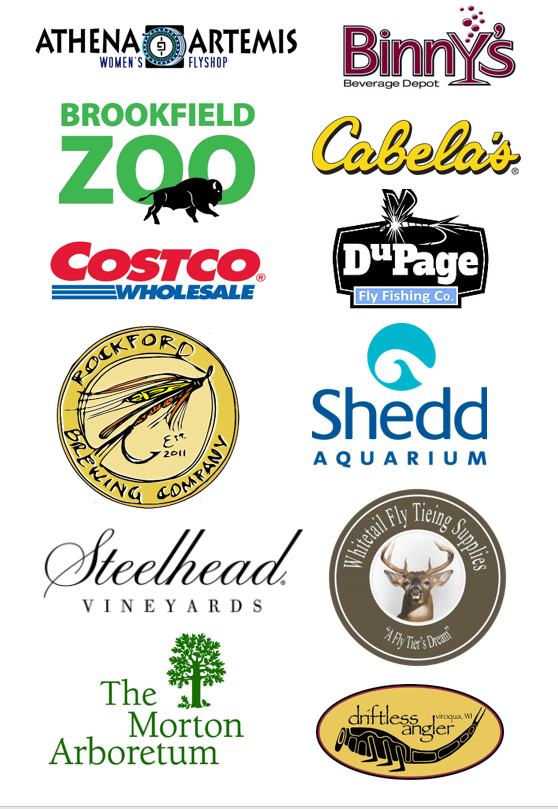 Preferred Guides
Illinois
Kankakee River
Big River Fly Fishing
Michigan
Au Sable River
D Loop Outfitters (John Gouker)
Dowagiac River
Jay Anglin Outdoors
Manistee River
D Loop Outfitters (John Gouker)
Muskegon River
Feenstra Guide Service
Pere Marquette River
D Loop Outfitters (John Gouker)
Outfitters North (Jeff Hubbard)
Pere Marquette River Lodge
St. Joseph River
Jay Anglin Outdoors
Wisconsin
Driftless Area
Black Earth Angling
Driftless Angler
Jacquish Hollow Angler (Dave Barron)
Rich Ostfhoff
Southeast Wisconsin/Sheboygan River
Matt Brush
Email:  Mattmbrush@gmail.com